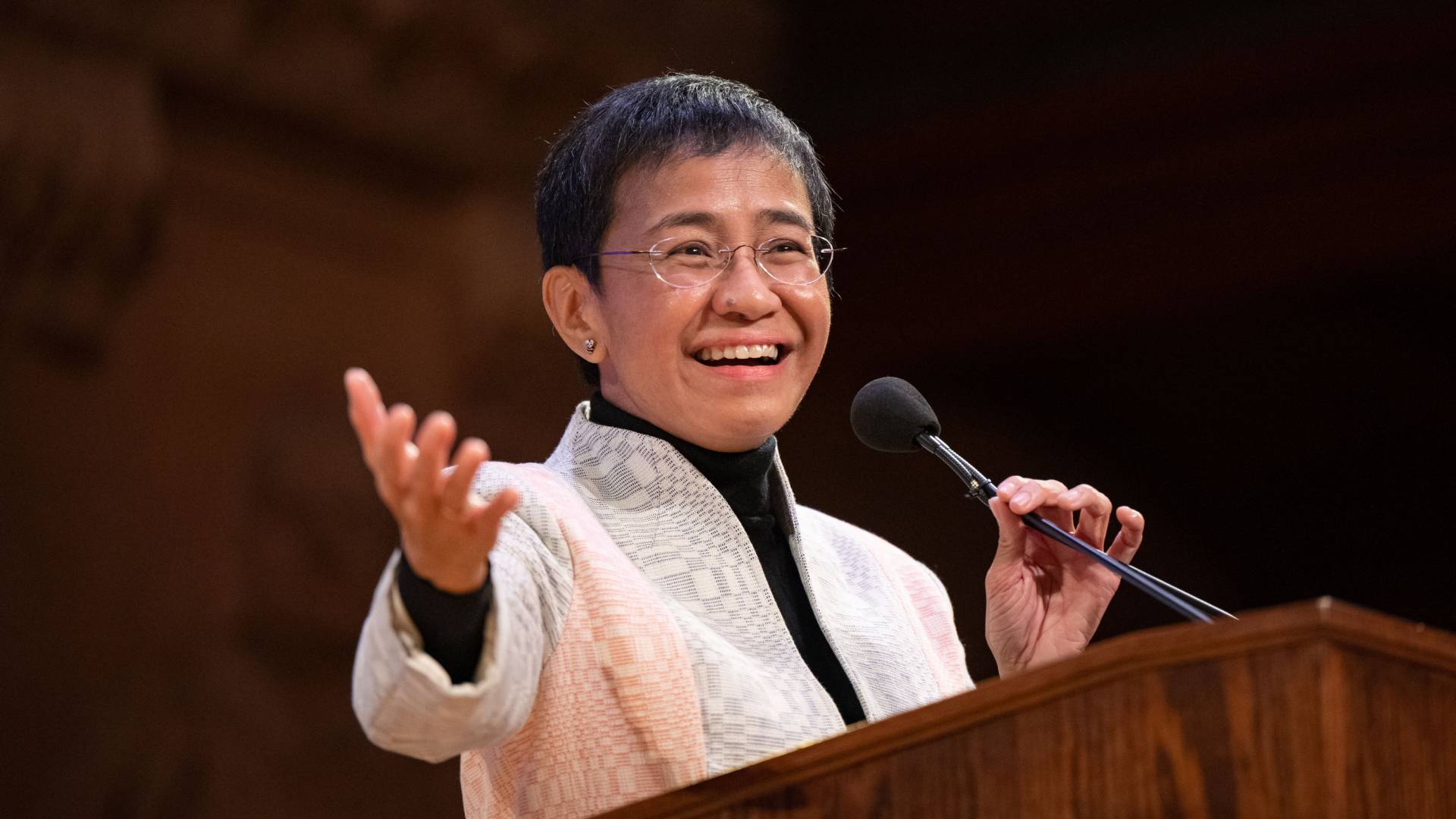 The Nobel Peace Prize 2021
The Nobel Peace Prize 2021 was awarded jointly to Maria Ressa and Dmitry Andreyevich Muratov "for their efforts to safeguard freedom of expression, which is a precondition for democracy and lasting peace."1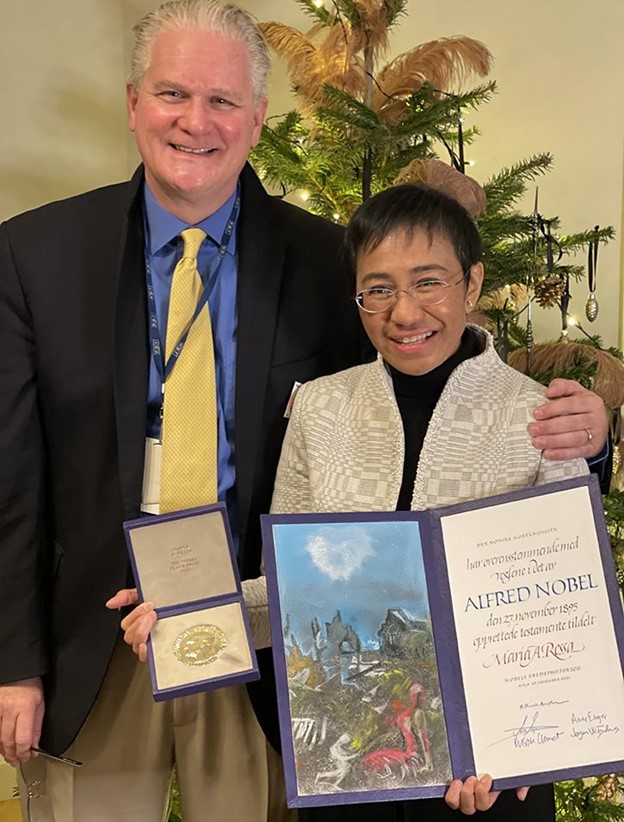 Fighting for press freedom
In 2012, she was one of the co-founders of the Rappler online news site. As an investigative journalist, she has distinguished herself as a fearless defender of freedom of expression and has exposed the abuse of power, use of violence and increasing authoritarianism of the regime of President Rodrigo Duterte. In particular, Ms. Ressa focused critical attention on President Duterte's controversial, murderous anti-drug campaign. She and Rappler have also documented how social media are being used to spread fake news, harass opponents and manipulate public discourse.2
Early life and Princeton University
Ressa was born in Manila on October 2, 1963. Ressa's father died when she was one year old. Her mother then moved to the United States, leaving Ressa and her sister with their father's family, but would visit her two children frequently. Subsequently, her mother married an Italian-American man and returned to the Philippines. She brought both of her children to the United States when Ressa was ten years old. Ressa was adopted by her stepfather and she took his last name. Her parents relocated to Toms River, New Jersey where she went to Toms River High School North, a public school nearby.
Ressa was an undergraduate student at Princeton University, where she graduated cum laude with an A.B. in English and certificates in theater and dance in 1986. She completed a 77-page-long senior thesis titled "Sagittarius." She was awarded a Fulbright Fellowship to study political theater at the University of the Philippines Diliman where she also taught several journalism courses as a faculty member in the university.
A journalist under siege in the Philippines
Ressa studied theater at Princeton, but what she found in the Philippines "was real-life theater. During that year, I learned a ton about politics." With that experience, Ressa became CNN's bureau chief in Manila and then in Jakarta, head of the leading TV network in the Philippines, ABS-CBN News. When three journalists on her staff were kidnapped by an al-Qaida affiliate in the Philippines, she negotiated their release. That led to her book, 10 Days, 10 Years: From Bin Laden to Facebook.
In 2011, Ressa co-founded Rappler, a smaller, leaner, quicker news operation that leveraged the Philippines' rapidly expanding social-media networks to become one of the country's leading sources of news.
In 2016, Rodrigo Duterte was elected president. Soon after, Rappler became a target for the authoritarian leader and his allies on social media. Ressa and the company faced regulatory and legal challenges, online death threats, and even the possibility of prison for criminal charges that she indicated were trumped up.
Initially, Ressa sensed great possibilities for social media to promote democracy. "We saw this great potential, and we made it a reality," she said. "We felt technology and data were going to be how journalism would survive. We saw Rappler as quality journalism in your pocket." Rappler's growth was driven by the nearly universal use of Facebook in the Philippines, especially by millennials. For Rappler, the attacks on social media intensified in October 2016, when it published a series on propaganda, the first of which was titled "Propaganda War: Weaponizing the Internet" about the use of trolls and fake online accounts in the country's politics. Ressa began receiving as many as 90 hate messages an hour. "It showed us the machine had turned and targeted us," she said. Ressa instituted counseling for her 100 employees and heightened security measures. "I've been a war-zone correspondent," she said. "You always need to be prepared."
Then, in February 2017, the government's regulatory body for securities began an investigation into whether Rappler's ownership structure was illegal. In March 2018, the National Bureau of Investigation opened multiple cases involving Rappler, including tax evasion and cyber-libel. Ressa found herself facing five to 15 years in prison if convicted.
Ressa said the charges are false and the company is fighting them. "I try not to think about it," she said. "What I'm hoping is that Rappler continues reporting." With the levers of government increasingly concentrated among Duterte and his loyalists, Rappler "seems like a hopeless case, tilting at windmills. But we are a democracy. So it's important to keep raising the alarm when transgressions happen. They say you can't fight city hall," she said, "but that's what journalists do."
Tigers rally in support
With Ressa potentially facing decades in prison, Tigers rallied in support of her. "When the government started attacking me, out of the blue Princetonians from different classes began to come together." And "It was first the journalists." Kathy Kiely '77, a Missouri School of Journalism professor and Princeton trustee, teamed up with Tom Weber, '89, president of the Daily Princetonian's board of trustees, Mike McCurry '76, and others to publish a full-page ad in the PAW urging U.S. officials to pressure the Philippine government to stop harassing Ressa. "We started working on our connections … and I want to tell you that in maybe 72 hours, we had more than 100 names and there were some real blue-chippers," said Kiely, who didn't know Ressa. Those who signed included New Yorker editor David Remnick '81 and three-time Pulitzer Prize winner Barton Gellman '82.
When they placed a similar ad in The Washington Post, the list of names grew to more than 400. At the top was former Secretary of State George Shultz '42. "When he turned 100 years old, the very last public act he did was to sign this … in support of me and Rappler," said Ressa. "He said the biggest lesson he had learned … is that if you have trust in the room, everything is possible. But if you don't have trust, nothing is possible."
Anne Tergesen '86, a fellow journalist, worked with classmates Julia Hicks de Peyster '86 and Kiku Loomis '86 on an online panel discussion to promote the Press Freedom Defense Fund, where alums have contributed to cover Ressa's legal fees. Class President Elisabeth Rodgers '86 and Vice-President Dave Hicks '86 made and distributed buttons with Ressa's likeness at alumni events on campus. Olivia Hurlock '86 and Leslie Tucker '86 raised money to help feed Ressa, who by her own admission can't cook. Nearly 70 classmates contributed to meals delivered from Ressa's favorite restaurants, as well as monthly deliveries of coffee and wine.
"I think people were excited to help Maria in this way because food is such a basic gesture of love," said Hurlock. "In lockdown in her apartment in Manila, facing all these terribly frightening charges from the government, trying to run her business, write a book … I simply cannot imagine."
At a virtual class reunion in May, Ressa spoke about how much all of this has meant to her. "I cannot begin to tell you how amazing Princeton and your support has been," she said as she choked up. "Every time I get something, I think of you, and I think of the goodness of human nature." See photo above and the following PAW article: Journalist Maria Ressa '86 Receives Nobel Prize in Oslo by Frank Langfitt '86, NPR's London correspondent
Ressa wins Nobel Prize and Princeton's Woodrow Wilson Award
Ressa is the first Filipino recipient of the Nobel Peace Prize. Ressa was included in Time's Person of the Year 2018 issue as one of a collection of journalists from around the world combating fake news. Ressa is one of the 25 leading figures on the Information and Democracy Commission launched by Reporters Without Borders. She was among its 100 Most Influential People of 2019, and has also been named one of Time's Most Influential Women of the Century. She was also part of the BBC's 100 most inspiring and influential women of 2019 and Prospect magazine's world's top 50 thinkers. In 2020, she received the Journalist of the Year award, the John Aubuchon Press Freedom Award, the Most Resilient Journalist Award, the Tucholsky Prize, the Truth to Power Award, and the Four Freedoms Award. In 2021, UNESCO awarded her the Guillermo Cano World Press Freedom Prize.
Ressa is a fellow at the Initiative on the Digital Economy at the Massachusetts Institute of Technology and is a 2021 Joan Shorenstein Fellow at the Shorenstein Center on Media, Politics and Public Policy and Hauser Leader at the Center for Public Leadership at Harvard Kennedy School.
Maria returned to Princeton in February 2022 to receive the Woodrow Wilson Award at Alumni Day. Her speech, The Honor Code and the Battle for Facts, is available here.
SOURCES
• PAW: Maria Ressa '86: A Fight for Rights
• Rappler
REFERENCES
1The Nobel Peace Prize 2021. NobelPrize.org. Nobel Prize Outreach AB 2022
2Maria Ressa – Facts – 2021. NobelPrize.org. Nobel Prize Outreach AB 2022
OTHER RESOURCES
• PAW, Journalist Maria Ressa '86 Receives Nobel Peace Prize in Oslo
• Princeton University News, Ressa visits her NJ High School before receiving the Alumni Day Prize
• PAW: Five Princeton Alumni and Faculty receive the Nobel Prize
• PAW: Ressa wins UNESCO Prize
• PAW: Ressa wins Nobel Peace Prize
• PAW: Defending journalists truth telling role.
• PAW: Time Magazine Person of the Year