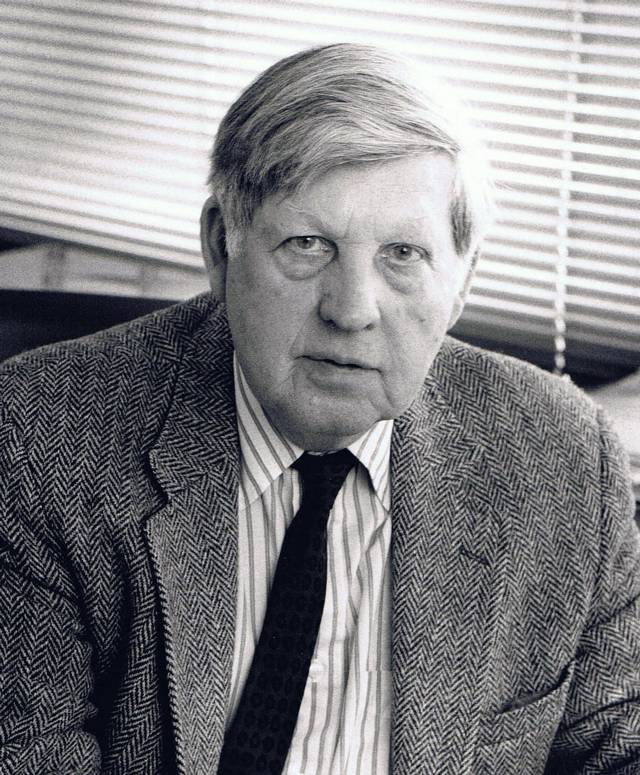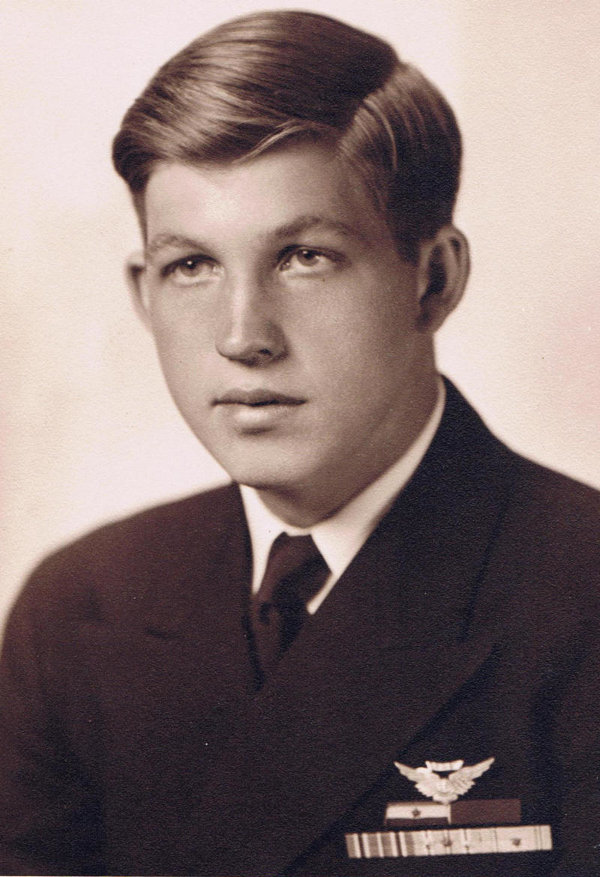 Early Years
Alvin Kernan (1923-2018) was born in Manchester, Georgia. His family later moved to a ranch in the Sierra Madre Mountains in southern Wyoming, where he graduated from Saratoga High School. Unable to meet a small cash expense to fulfill his scholarship to the University of Wyoming, Kernan enlisted in the U.S. Navy at age 17. He served on the USS Enterprise (CV-6) and other aircraft carriers as a bombardier in Torpedo Squadron 6, earning the Navy Cross, the Distinguished Flying Cross and Air Medal.
After the war, Kernan attended Columbia University for a year on the GI Bill and completed his B.A. at Williams College, where he won a Moody Fellowship for postgraduate study at the University of Oxford. He earned a second B.A. at Oxford and his Ph.D. at Yale University, where he subsequently taught for 19 years in the English department and was awarded two medals for distinguished teaching.
Kernan was general editor of the "Yale Ben Jonson" and published editions of three of Shakespeare's plays. He wrote the third volume of "The Revels History of the Drama in English, 1576-1613" ("The Plays and the Playwrights") and edited the 1970 volume "Modern Shakespearean Criticism, Essays on Style, Dramaturgy and the Major Plays."
At Yale, Kernan established the literature major in 1972 with colleagues including Peter Brooks and Michael Holquist. The program introduced undergraduates to the study of comparative literature and provided a training ground in deconstructive reading that previously was available only to graduate students.
Kernan served as Yale's associate provost from 1965-68, then as acting provost in 1970, in addition to being named director of humanities and director of the literature major.
Princeton Years as Inspiring Professor
Lawrence Danson, Princeton professor of English, emeritus recalled the anticipation surrounding Kernan's hiring at Princeton in 1973. "When I was a young assistant professor, then-President Bill Bowen rushed up to me during an intermission at McCarter Theatre (it was a smaller University then) and whispered excitedly, 'We've got him!'" Danson said. "It took me a few seconds to figure out who 'him' was. Al's decision to come to Princeton to be dean of the Graduate School marked Bowen's first triumphant new administrative appointment."
John Fleming, the Louis W. Fairchild '24 Professor of English and Comparative Literature, Emeritus, said Kernan arrived at Princeton with "a reputation for outstanding teaching and scholarship, as well as experience as the acting provost of a great university."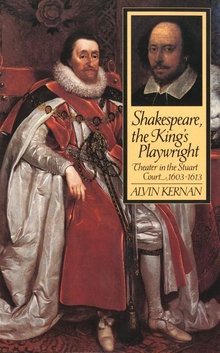 At Princeton, he taught "Literature and Society" and many courses on Shakespeare. His books included "The Cankered Muse, Satire of the English Renaissance," "The Plot of Satire," "Samuel Johnson and Print," "The Death of Literature," "Shakespeare, the King's Playwright," "The Playwright as Magician: Shakespeare's Image of the Poet in the English Public Theater," and a memoir of his early life and naval service, "Crossing the Line: A Bluejacket's Odyssey in World War II."
Danson said Kernan established his reputation with his two influential books on literary satire, but that he cast his net widely, writing, among much else, an important book on Samuel Johnson and various essays concerning the nature of print culture and the challenges presented to it by new technologies. "Al mined his wide-ranging interests, from Shakespeare to Evelyn Waugh to the historical sociology of the printing press," Danson said. "He never met an idea that wouldn't be better for his research and writing."
"Kernan's seminar on Shakespeare's tragedies at the Yale Graduate School was the liveliest and most stimulating seminar I ever attended," recalled Danson, who wrote his dissertation on that subject at Yale under Kernan's supervision. "It inspired an impressive generation of very bright students to make Renaissance drama the basis of their own successful careers. He was at his teacherly best in the question-and-answer format. A graduate student at Princeton later told me that his nickname among students was 'the Socratic bulldog.'"
"His lectures on Shakespeare were brilliant, even maddeningly so for a brand-new pedagogue like myself, since they were so perfectly complete in themselves as accounts of Shakespeare's dramas that it was difficult to fit oneself into the conversation," said Leonard Barkan, the Class of 1943 University Professor of Comparative Literature at Princeton, who was a teaching assistant for Kernan at Yale in the 1960s. "But there was something even more demanding about Al's vision of Shakespeare, which was that he delivered to us, even in the presence of the most light-hearted comedy, depths of melancholy — what the Germans call 'Weltschmerz' — that clearly spread in his mind from Shakespeare to the world (or vice versa)."
Princeton Graduate School Dean
As a dean of the Graduate School, he agreed that Dean Pittendrigh's goals of 1,850 was unrealistic for the times and the University, and that the Graduate School, a "small and consequently fragile ecosystem," should never fall below 1,400 students. Dean Kernan also reasoned that it had the capacity, in terms of courses, faculty, and resources, to sustain a population of two or three hundred more. As he reminded President William Bowen in 1974, Princeton's enrollment included three professional schools, which meant that its core arts and sciences enrollment of fewer than a thousand compared unfavorably with Yale's 2,000 and Harvard's 2,500—a comparison that would not go unnoticed.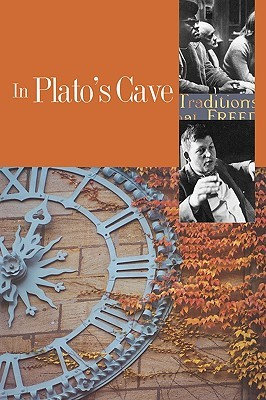 As every Graduate School dean quickly discovered, assembling a world-class student body "does not come cheaply." Kernan explained why in his wry memoir of academic life, In Plato's Cave. "Major graduate schools live and die by the amount of money available to compete for students," he recalled after four rough years in Nassau Hall. "There are only a few really outstanding students in a given discipline in any single year, and all the major graduate schools compete ferociously for this handful." Fortunately, Princeton's has always (if sometimes tardily) found the resources to be able to go head to head with its competitors, but not without a constant struggle and some creative fund raising.* (In Plato's Cave, New Haven: Yale University Press, 1999, p. 215)
David Redman, former assistant, acting and associate dean of Princeton's Graduate School, who also was Kernan's advisee and teaching assistant at Yale, remembered Kernan as having a dry sense of humor and "a very realistic appreciation of people and of the academic culture" because of his wartime experience.
"As an adviser, at least in my case, he let me develop my ideas in the dissertation and then pushed hard to have me sharpen and clarify them," Redman said. "He was a wonderful editor, at both the level of word choice and expression, and at the level of conception and organization. As a 'boss,' he was decisive and demanding. … He did not suffer fools lightly."
Kernan served as dean of the Graduate School at Princeton until 1977, when he returned to teaching full time as the A.W. Mellon Professor of Humanities. He was named the Avalon Foundation University Professor of the Humanities in 1982 and received a Howard T. Behrman Award for Distinguished Achievement in the Humanities in 1984. Kernan transferred to emeritus status in 1988.
Kernan held fellowships from the American Council of Learned Societies and the National Endowment for the Humanities. Upon retiring from teaching, he became a director of the Mellon Foundation. PROFILE: Tom, there are two sources: I'm not sure how to list the first source and the second is provided.
Sources:
Alvin Kernan, leading Shakespeare scholar and former Graduate School dean at Princeton, dies at 94 Denise Valenti for the Office of Communications June 12, 2018 4:04 p.m.
Rounding Out a Century: The Princeton Graduate School, 1969-2000 by James Axtell. The Princeton University Chronicle. Vol. 61, No.2, Winter 2000), pp 171-216
Other References:
American Heritage: Alvin Kernan