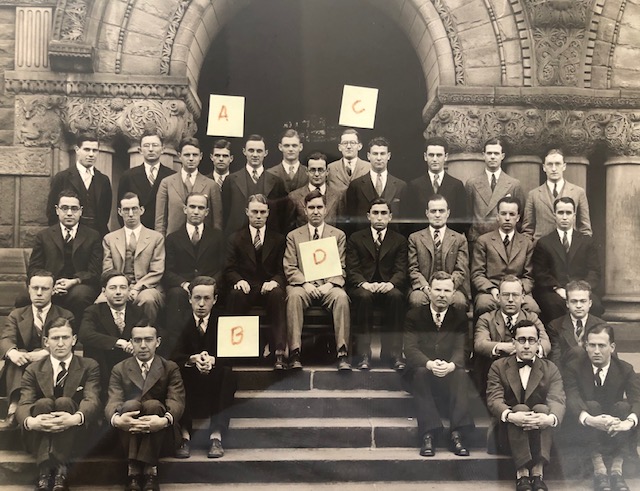 William Henry Vodrey III, Class of 1926, was in the class of 1929 at Harvard Law School, where he went straight from Princeton. He and Alger Hiss befriended each other in law school and were close friends all their lives. They were in each other's wedding parties and the Vodreys and the Hisses visited each other regularly for many years in NYC. Right or wrong, the Vodreys never "bought" Hiss' guilt.
Key to the photograph:
A) Alger Hiss.
B) William "Bill" Henry Vodrey III, Class of 1926
C) Leon "Lee" Pressman, exposed as a spy for the Soviets in 1948.
D) Erwin Griswold, Solicitor General under both LBJ and Nixon. Dean of Harvard Law School from 1946 through 1967. Once reputedly yelled at student Ruth Bader Ginsburg in class for "taking a man's spot." A perennial also-ran for a SCOTUS seat.
Catherine Stroud Vodrey
Daughter of Jackman Stroud Vodrey, Class of 1957
Granddaughter of William Henry Vodrey III and Richard Fisher Green, both Class of 1926